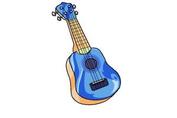 Anacapa Ukulele offers group classes as well as private lessons. We have something for for people of all ages and experience! Pricing and schedules vary depending on the session and individual instructor. Basic information is listed below. Please call or email us for more.

---
Adult Group Classes
Level 1, Level 2 and Level 3
Whether you're wanting to start from scratch or dive in a little deeper, we have something for everyone! Brad Ranola will steer you through these fun and informative classes! Get to know your ukulele. Learn to play alone and with others. Training your fingers and your ears.
Level 1 | WEDNESDAYS at 6pm, $85 for 4 classesInstruction for complete beginners
. We'll be studying proper technique, bits of usable music theory, strumming, chords and scales, finger-picking, and even a little bit of soloing - all within the context of fun and familiar songs.
Level 2 | WEDNESDAYS at 7pm, $85 for 4 classesFor those who have learned some basics and want to take it to the next level.
Knowledge of and ability to play through chords in the C Major family (C, Dm, Em, F, G, Am) are a must for this class. In Level 2, we'll pick up where Level 1 leaves off. We'll explore some more rhythmic strumming and technique builders as well.
Level 3 | WEDNESDAYS at 8pm, $85 for 4 classes
(Level 3 Class Series: Advanced Techniques is offered on an as-indicated basis. Please ask about current offering if interested.)
For those who have learned some basics and want to take it to the next level.
Our Advanced Techniques Series offers new items with each 4-week session. So, even if you attended our last session, you will get new information in this one! This 4-week session will focus on 3 entirely new concepts:
Finger Picking Fluency
,
"Cool" Chord Substitutions
, and
Introduction to Soloing
. As with all Advanced 'Ukulele Sessions, we will also cover a bit of applicable music theory and technique-building warmups. We suggest that registrants of Advanced 'Ukulele sessions have finished our 'Ukulele 201 or Level 2 'Ukulele class. If you haven't taken any of our prior classes or you are unsure of your readiness for our Advanced sessions, contact us! We are happy to answer your questions before you register!
Next
Session starts March 7, 2018
Class meets March 7, 14, 28 and April 4
Registration now open.
To register and for more information, please, email us at anacapaukulele@gmail.com or call 8055006848.
Payment with registration is requested. Deadline March 6, 2018

Brad Ranola is our Group Class instructor. He also teaches private lessons for adults on Mondays and Tuesdays out of Anacapa Ukulele. Brad is a professional touring musician and an incredibly proficient ukulele player! He has done studio work with the best in the industry and continues to tour professionally as a drummer. The original owner of Anacapa Ukulele and all around music enthusiast, Brad will take you on a journey into musical theory, traditional Hawaiian-style playing, finger-picking and more. He is a fun and easy-going teacher that you are certain to enjoy working with! His lessons are 30 minutes each and cost $95 for 4 weeks. To sign up for lessons, email him at ukeboxinfo@gmail.com
---
Lloyd Wyckoff

offers private lessons for adult beginner students. Lloyd, co-owner of Anacapa Ukulele, has played guitar for many years and added the ukulele to his instrument collection about five years ago. Lloyd is an enthusiastic player and enjoys sharing and teaching beginners the proper techniques and principles to provide a solid foundation for progressing with the ukulele. Lloyd offers lessons prior to store hours. He can be reached by calling Anacapa Ukulele at

8055006848

or by email at

anacapaukulele@gmail.com

.

Kids ClassesKids Ukulele Classes:

Kids Ukulele classes are for your little ones (ages 6-10) and take place Saturday mornings at 9am! Cost is $75 for 4, forty-five minute lessons. Currently we are only taking interest inquiries. You will be notified as soon as the next class is scheduled!

Email us at

anacapaukulele@gmail.com

to get your name on the interest list!

---